Muffle furnace
Brief Introduction:
LD-SX series of muffle furnace with silicon molybdenum rods as heating element, using double shell structure and intelligent temperature control system of thyristor control, phase shift trigger, furnace using 1700 type of polycrystal alumina fibre materials imported from Japan, double layer between the furnace shell is equipped with air cooling system, can quickly rises to cool, USES the soft start of constant flow control, extend the service life of heating element. Balanced &energy-saving temperature control precision, temperature field, simple operation, quick elevating temperature rate, low energy consumption advantages.
Application:
Colleges and universities, research institutes, industrial and mining enterprises do roasting, ceramic sintering, high temperature test, quality test.
Standard Features:
Max Temp:1200C/1400C/1700C
Work Temp:1100C/1300C/1600C
PID automatic control of temperature with 30 segment programming
Low thermal mass insulation for fast response & energy efficiency
Shell structure:double shell structure with air-cooled system to ensure the furnace shell close to room temperature when the furnace is running and avoid accidents.
Temperature control safety:with over-temperature protection;broken even protection;leakage protection;equipment operation safe and reliable.
Chamber material:alumina ceramic fiber to ensure uniform temperature field and good insulation properties.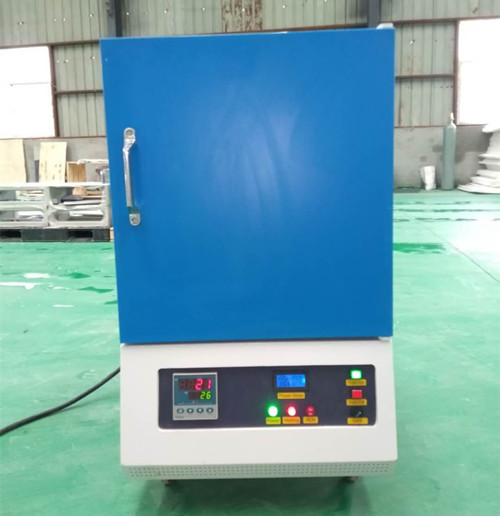 Technical Sheet:
Model

LD-SX Muffle Furnace

Voltage and Frequency

AC220V/380V 50/60HZ

Internal size

100*100*100mm/200*150*150mm/300*200*200mm/400*300*300mm

Max Temp

1200c/1400c/1700c

Work Temp

1100c/1300c/1600c

Power

2kw/4kw/9kw/16kw

Heating Rate

0-20C/min

Heating Element

Resistance wire/SIC/Mosi2

Thermocouple

K/S/Btype

Temperature Alarm

1,Over temp alram

2,Broken thermocouple alarm

Furnace Shell

Double Shell sctructure with fans cooling system eusure the temperature of furnace surface is below 40.c

Furnace Chamber

Chamber material is light alumina ceramic fiber, reasonable design, heat preservation performance is good, saving energy.

Temperature control

1,PID automatic control with 30 segment programable via SCR (Silicon Controlled Rectifier) power control with phase angle fired, current limiting resistor.

2, Built in PID Auto-Tune function with overheating & broken thermocouple broken protection.

Furnace Door

Side open

Standard Accessories

Asbestos gloves,crucible tongs
Packaging:
Strong pack avoide any damage during transportation